Home / Products / Saturn Series / Atlas power amplifier
ATLAS POWER AMPLIFIER
ATLAS amplifiers are capable of driving virtually any high quality speaker. An innovative hybrid design incorporates a bipolar output stage, bipolar driver stage, and vacuum tube input gain stage. They stand alone as the only hybrid amplifiers with zero feedback, essential for maintaining harmonic integrity, air, space and coherence. The Atlas provides your choice of full range or high-pass inputs. This unique built-in filter is ideal for speakers featuring powered woofers, such as Vandersteen, or for audio and home cinema systems using outboard powered sub-woofers. Saturn Series design themes are evidenced in the specialized all-aluminum chassis construction and elaborate power supply design.
Zero feedback, fully differential amplifier with complementary balanced bridge design for open sound.
Tube gain stage using one 6SN7 tube per channel provides harmonic accuracy and soundstage layering. This single gain stage provides all of the voltage gain for the entire amplifier.
Stereo amplifier: 200 watts per channel into 8 ohms; 400 watts per channel into 4 ohms
Mono amplifier: 300 watts per channel into 8 ohms; 550 watts per channel into 4 ohms.
Amplifier has a built-in high-pass crossover: 6 dB / octave, 16 settings from 40 Hz to 200 Hz in approximate 10 Hz increments.
Single-ended and balanced inputs provide extended compatibility.
Direct input bypasses all crossovers and switching for ultimate purity.
Bus technology reduces power supply impedance between output devices for more instantaneous current.
Power supply uses two transformers and three chokes. The high current section uses a dedicated transformer and choke input power supply. The vacuum tube B+ power supply has choke input and is discretely regulated. The result is unequalled clarity and control.
Cardas patented rhodium-plated binding post with single knob lockdown.
All aluminum chassis construction assures durability.
Stainless steel cover for transformers prevents magnetic fields from interacting with sensitive audio circuitry, preserving low level musical nuances.
RS232 control and trigger for special installation requirements.
Available in black or silver faceplate.
Altas Stereo is available in three versions: Standard, Signature or Eclipse. Atlas Mono is available in two versions: Signature or Eclipse. Atlas Stereo can be factory upgraded to the Signature version, all Atlas units can be factory upgraded to Eclipse edition.
ATLAS EDITIONS
Altas Stereo is available in three versions: Standard, Signature or Eclipse. Atlas Mono is available in two versions: Signature or Eclipse. Atlas Stereo can be factory upgraded to the Signature version, all Atlas units can be factory upgraded to Eclipse edition.
ATLAS SIGNATURE
Atlas Stereo Signature uses the same circuits as the standard Atlas Stereo, but those circuits are implemented with only the highest quality parts available. The Mono Signature version dedicates the entire power supply to one channel, increasing space, drive and dimensionality. The standard versions of Atlas use very high quality Rel-Caps as inter-stage coupling capacitors, while the Signature upgrades these with Peter Moncrief's Stealth capacitors, costing over 10 times as much. These provide more detail and information, while maintaining the same award-winning tonal balance. High current output stage power supply capacitance is doubled, increasing bass drive and solidity. Binding post wiring is upgraded to specialized audiophile 14 AWG, which further increases resolution. Another critical refinement is the replacement of all emitter resistors with a specialized metal foil low-inductance type.
Atlas Mono is only available in the Signature version. Atlas Stereo can be factory upgraded to the Signature version.
NEW ATLAS ECLIPSE
The newest version of Atlas includes the use of new exotic capacitors, electrical upgrades including super-matched output devices and distributed node technology; advanced mechanical chassis isolation; and sophisticated electrical signal grounding. As an option, beautiful new polished-aluminum casework is available that is both more rigid and has better damping properties.
First phase: The Atlas Eclipse Stereo features the Stealthcap™ capacitor, made with exotic new conductors, dielectric material, and composite resins to dramatically reduce reflections, enhancing focus and articulation with blacker backgrounds.
Second phase: The output stage of Atlas Eclipse Stereo features Super Matched Pair output devices, lowering certain output stage distortion components by as much as 40dB. In every version of the Atlas, each Bi-polar output device (16 per channel) is supplied power through a copper bus bar design, radically reducing impedance compared to standard circuit board traces. In the Eclipse version, Distributed node film capacitors are added at each output device, further reducing impedance for increased current capacity and improved transient capability.
Third phase: Critical power supply components: high voltage transformer, high voltage choke, and driver choke, are de-coupled from the chassis using specially designed isolation mounts. This dramatically reduces the amount of mechanical vibration introduced into the chassis.
Fourth phase: Since the transformers are no longer in contact to the chassis at multiple points, a single point system is used to ground the transformer cases, further reducing AC-induced noise. Power supply wiring for the high current section, already robust 14 gauge in Standard and Signature versions, is upgraded to the equivalent of 12 AWG multi conductor audiophile wiring.
Fifth phase (optional): The casework is replaced with machined aluminum pieces that are bolted together using a highly rigid joinery technique... they act as one. In black, the panels are polished to a beautiful reflective sheen. In silver, they are finished in a gorgeous matte texture.
ATLAS CASEWORK
Atlas and Atlas Signature come with Classic Casework. Atlas Eclipse is available with Eclipse Casework, or optionally with Classic Casework. Classic Casework matches Saturn Series components. Eclipse Casework matches Metis. See the photo gallery for examples of both classic and Eclipse casework.
ATLAS REVIEWS & ACCOLADES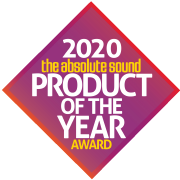 The Absolute Sound Product of the Year Award (2020, ATLAS MONO ECLIPSE amplifier)

The Aesthetix Atlas Eclipse Mono is a powerful amplifier that delivers like few others on the promise of hybrid technology... seemingly unlimited power with a pristine transparency... truly deserving to be called Product of the Year." -The Absolute Sound (January 2021), read award

The Atlas lived up to its name... Its transparency is pristine — not like a very clear window, but like no window at all between the listener and the music... You know you are on to something good when a new piece of gear prompts you to pull out more and more of your favorite music... Over time it became apparent that these amplifiers do not impose any particular sonic signature upon the music and, far more often than not, reveal air, space, and detail lost on lesser gear." -Don Saltzman, The Absolute Sound (May/June 2020), read review

Atlas Stereo Signature is a glorious sounding amplifier that successfully marries the airy openness of valves with the grip and grunt of a solid-state powerhouse. As the company's products are hand-built by artisans and have limited distribution among selected specialist dealers, audiophiles with pockets deep enough to own them are guaranteed pride of ownership as well as audio bliss." -John Bamford, HiFiNews (UK, December 2014)

(You) have lucked out and discovered just about the only really high-end, high-powered, genuinely versatile two-box vacuum-tube amplification option out there -- the Aesthetix Janus Signature and Atlas Signature." - Roy Gregory, TheAudioBeat.com (UK, September 2014) read review

Big, bold, solid and surprisingly agile, these amps are good enough and communicative enough to put you really close to the performers and their performance. With unforced power and a real sense of presence, they project music with an uncannily natural sense of pace, flow and colour. Having run the Atlas in a few systems now, it has become a real go-to amp." - Roy Gregory, HiFi+ (UK, February 2014) read review

Atlas (Stereo Signature) walks that fine line between control and creativity, precision and dynamics, command and freedom. The results are, quite literally, awesome." HiFi+ (UK, March 2014), read review

Great resolution and reflexes... a deep convincing sense of space... a sheer joy - both sonically and musically - to listen to." The Absolute Sound High-End Audio Buyers Guide (Spring 2013)

...this amplifier is cohesive, with the bass, midrange and treble dovetailing brilliantly to make a seamless whole...it remains the best we've heard at this price level or anywhere near it.", What Hi-Fi? (UK, 2013), read review

The sound is huge in scale and reach. Stereo imaging is among the widest we've ever heard, and lacks for nothing in precision or intimacy. Add the exceptional build quality and you have one of the finest pre/power amps that money can buy." What Hi-Fi? "30 Stunning Stereo Amps" (UK, 2012, CALYPSO SIGNATURE linestage and ATLAS MONO amplifier)
The Absolute Sound Golden Ear Award (2010, ATLAS STEREO amplifier)
HiFi+ Guide to The Crème de la Crème (UK, 2011, ATLAS MONO amplifier)
Nghe Nhìn Review (Vietnam, 2011, ATLAS STEREO amplifier)

...combines a unique technical approach, extraordinary workmanship and exceptionally good sound... neutral and emotional sound independent of the loudspeaker..." -Michael Lang STEREO "100 Sound Points" (Germany, 2012, ATLAS MONO amplifier)

build quality is top notch... characterized by a control, ease, and dynamic command that allowed music to jump to life" -Wes Phillips Stereophile Class A Recommended Component (ATLAS STEREO amplifier)

Aesthetix amplifiers set the standard... at once delicately responsive and effortlessly powerful, capable of driving most speakers but doing so without ever sounding muscle-bound." -Roy Gregory HiFi Plus (US, 2011 ATLAS MONO amplifier), download PDF (4 MB)

Plenty of power... top-class grace... terrific build quality... The stereo image is among the widest we've ever heard, yet lacks for nothing when it comes to precision or intimacy." What Hi-Fi? "5 Stars" (UK, 2011, ATLAS MONO amplifier)

+9 LPs - "Atlas is consistently musical... tonally gorgeous... convincing virtual sound stage..." 10Audio.com (2011, ATLAS STEREO amplifier), read review

...for all its strength and grunt, the Aesthetix Atlas revealed itself to be quite graceful in its portrayal of music and music's physical, insubstantial substance... it's one of the really great amplifiers I've had in my system" -Wes Phillips Stereophile (2010, ATLAS STEREO amplifier), read review

A sophisticated brute, the Atlas sounds great with all types of music" What Hi-Fi? Sound & Vision Magazine "Five Stars" (UK, 2008, ATLAS STEREO amplifier), read review
ATLAS with ECLIPSE CASEWORK
ATLAS with CLASSIC CASEWORK
ATLAS SPECIFICATIONS
Atlas Stereo
Power Output: 200wpc channel into 8, 400wpc into 4
Input Sensitivity: 60mV (1 watt), 2.3V (full power)

Atlas Mono
Power Output: 300wpc channel into 8, 550wpc into 4
Input Sensitivity: 60mV (1 watt), 3.1V (full power)

Input Impedance: 470K
Output Impedance: .25 at 1kHz
Signal to noise: 120dB
Bandwidth at full power: 4 - 150kHz
Rated THD at full power: <1%
Power consumption: 100 watts at idle
Dimensions: 18"w x 8"h x 19"d
Weight: 70 lbs
Finish: black or silver
Warranty: 3 years, non-transferable
Specifications subject to improvement or change without notice.